Most college students would agree, as fun as college is, it is also very stressful. Students take on various roles, and that sometimes goes unnoticed. Most of us have jobs, on or off campus, so we must be an employee as well as a student. Some of us participate in extracurricular activities, like sports teams or clubs, and serve as club leaders. Students also must fulfill the roles of a supportive friend, family member or significant other by dedicating their time to connect with loved ones, and the list goes on! 
To reiterate, students are constantly trying to balance a full plate. However, there is one role that is often overlooked, and that is being your own caretaker. 
It's common for college students to cut back on sleep, skip meals or sacrifice things they enjoy in order to make the time to fulfill all the roles listed above. It is crucial for college students to ensure that they are advocating and properly tending to themselves as a person first and foremost, before they can effectively "fill a role". 
As a person, and not just a college student, you have an obligation to yourself to do what is best for you, so here are some tips to help you practice self-care: 
1. Never feel bad, guilty or ashamed for putting yourself first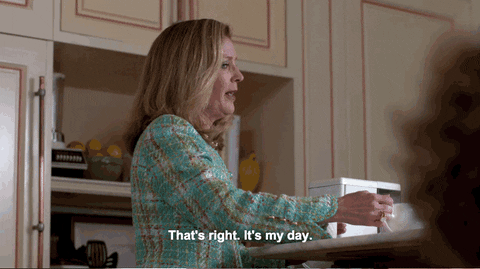 Alone time is a must to recharge, refuel and relax. With a busy schedule, it is important to ensure you have this time for yourself.
2. Prioritize Yourself
As difficult as it may be, putting yourself above all else should always be a priority. If you are not properly cared for, then you're unable to give your best to those around you. You are not selfish for saying no, canceling plans or dedicating time for yourself. In fact, it's extremely important that we take that time to reflect, relax and recharge. 
3. Improve self-talk 
The way we talk to ourselves affects us more than we may realize. By repeating positive affirmations to ourselves or changing the way we give ourselves criticism, we can improve our mental health and life satisfaction.  
4. Get regular movement 
I am sure as college students; we all frequently hear people tell us how beneficial exercise is. Despite that tip constantly being thrown around, do you know why it's beneficial? Regular exercise has been supported by studies to lower stress levels and improve our overall health! Even if you only have time for a 20-minute walk or are engaging in rigorous weightlifting, stress relief is something we could all use a little more of.  
5. Nourish friendships and close relationships 
Friendships, relationships and family lay the foundation for our support systems. It is important that they are nourished, and that time is devoted to spending quality time with them. A few benefits of prioritizing these relationships in your life include a boost in happiness and reduced stress.  
6. Eat mindfully 
Despite most of us falling under the "broke college student" category, a mindful and nutritious diet is extremely important. A healthy diet is a great way to improve your overall health. Some ways I recommend achieving this in a cost-effective manner are to plan meals ahead of time, use coupons or reach out to professionals on campus for nutrition advice! 
7. Improve your sleep habits 
As students, a proper sleep regimen is often something we sacrifice or overlook. However, especially because we are students, our sleep should have structure. A few benefits of good sleep hygiene include lower stress levels, less brain fog, improved immune system and an increased mood. 
Let your mind unwind before bed by reading or watching a series. College students read because they have to for class all the time. So, spending an hour or so at night can be a treat for yourself – not for a class. If you are a binge watcher like me, limit yourself to an episode or two a night so you can prolong your enjoyment and give yourself something to look forward to destress before bed.
8. Know when you need to ask for help and know that it is okay
It is perfectly acceptable to ask for help. Whether it be from a professor to further explain something from class, asking your employer to adjust your hours, or just asking a friend to lend a listening ear, do what you need to do for you. You can schedule an appointment with WSU's Counseling and Wellness Services for emotional support or talk to Tutoring Services for class help.
9. Invest in a hobby 
By investing in a hobby, you are simultaneously boosting your mood, engaging in social connections, improving your stress levels and are participating in new opportunities/overcoming new challenges. I encourage you to invest in something you're passionate about! Some ideas you could try are yoga, baking or a new sport. 
10. Try journaling 
As silly as it may sound to some, journaling is a fantastic way to reduce stress, track progress and growth, encourages you to reach your goals and boosts emotional intelligence. Take out 10 minutes from your day and give it a try! 
11. Plan your time effectively 
Coming from someone who is a chronic procrastinator and awful planner, effective time management is so important. By scheduling out your time properly, it is much easier to dedicate time to fit in some of self-care tips I listed above. Effective planning also can help reduce stress levels and help you be more prepared for whatever your week may bring! 
12. Rid your space of clutter 
Clutter has a way of causing us to become overwhelmed. By dedicating time to organizing or picking up our space, we are allowing ourselves to relax, peacefully and with a clear head. 
Some of these self-care tips have personally helped me reduce my stress levels and overall, just pay more attention to my well-being. Pick at least one and give it a try this week! 
– Makayla Lende '23
The following two tabs change content below.
Guest Blogger
Guest writers are sometimes featured on the WSU Blogs. If you would like to contribute, please submit your post here: https://blogs.winona.edu/submit-a-post/
Latest posts by Guest Blogger (see all)