Now that Mother Nature has turned and finally decided to grace us with this pleasant weather, a friend of mine and I decided to pull the old running shoes out of their winter hibernation and hit the trails around the lake.  However, within the first mile, our run turned into more of an oxygen-deprived trot around the big lake.  As we walked the last half mile back to East Lake Apartments, she brought up how thanks to her sporadic motivation (I'm trying to get the CDC to make it a legitimate condition, but they won't return my calls) during the winter always puts her back at square one and forces her to get back into shape.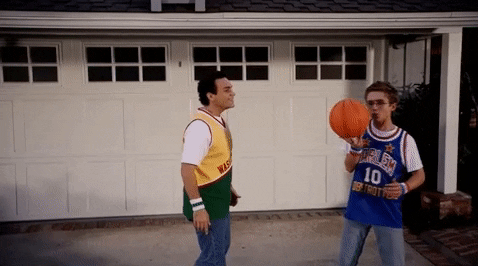 Since this is something I assume affects the 90% of us who are sane and don't want to go out in the cold to run around and stay in shape, we must find a way to get over the hump and get back what was lost (or gained) during the winter. Of course, doing something active and fun is the best way to get out and moving on a recurring basis, and a great place to start is basketball! As most of you already know, right in our very own Integrated Wellness Center are 2 full size basketball courts open to student use.  Grab a couple friends and start a pick up game; it's a fun, active way to spend an afternoon or evening. If you're a loner, you're still in luck! You can grab a ball and start shooting baskets by yourself. Can't dunk? That's okay, you don't need to be competitive. There are fun, intramural teams you can join and just have fun playing and meeting some new people. It's a great way to burn those winter calories off, build up endurance, improve coordination, and build up muscle.
Grab your athletic shorts and lace up those shoes!
The following two tabs change content below.
Caleb Bednarski
Caleb graduated in 2015 with a BS in Elementary Education with a Spanish minor. He is a music fanatic who loves to run and play Ultimate Frisbee. He is originally from Milwaukee, WI.
Latest posts by Caleb Bednarski (see all)